Upcoming Events: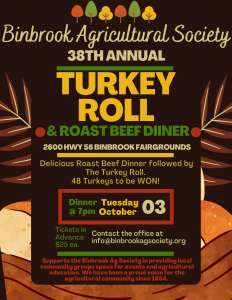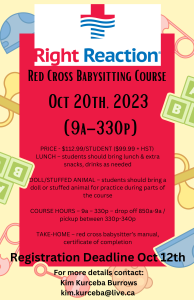 Office Hours for the week of September 25th:

Monday: 9am-10:30am;1pm-4pm
Tuesday: Closed
Wednesday: 9:00am-2:30pm
Thursday: 9:00am-4:30pm
Friday/Saturday/Sunday: Closed for the weekend
To make an appt please call or email:
Office (905) 692-4003 or email info@binbrookagsociety.org
Thank you to our volunteers, visitors and sponsors for making the 2023 Binbrook Fall Fair a huge success! Also, thank you to the City of Hamilton for supporting the fair each and every year through City Grants and by making staff available to assist in the planning/executing of the Fair!
See you next year for the 171st Binbrook Fall Fair


Address:
2600 Regional Road #56
PO Box 244
Binbrook, Ontario
L0R 1C0
Please Note:                                                                  
All dogs must be leashed and cleaned up after while on the Fairgrounds.
We are NOT a leash free park, and do not enjoy trodding in your pet's waste!
** NO DOGS ARE PERMITTED ON THE GROUNDS DURING THE FAIR **
Trained Service Dogs are permitted at all times.
If you notice persons not in compliance with this requirement, we ENCOURAGE you to contact By-Law enforcement, and report a 'dog at large'. 905-574-3433 (open 24/7 to take calls).
You can also submit descriptions of owners and dogs, or photos, to this department.
The BAS is not responsible for enforcement of Hamilton By-Laws.