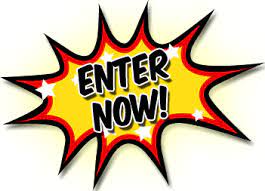 Details for our Fair Contests and Competitions can be found below including The Early Bird Draw, Pet Show, Baby Show, Yard Display Contest, BAS Life Member Scholarship, Demolition Derby, Fair Book Cover Contest and the Kid's Stick Horse Competition.
Early Bird Draw
<!–- AssistExpo -–>
The names of all exhibitors who have submitted their completed entry forms by Monday, August 14th, 2023 will be placed in a draw to be held during the Fair weekend.
Rules of the Draw:
1. To be eligible for this draw, your completed entry form must be received by the Secretary by Monday, August 14th, 2023.
2. The names of exhibitors whose entry forms are received by this date will be entered in the Early Bird Draw.
3. An exhibitors name will be entered only once for this draw, regardless of the number of entries on the form itself.
4. Prize winning names will be drawn by the BAS President in the Administration Office during the Fair weekend.
5. When the names are drawn the entry forms will be checked to confirm that the form was in fact completed and submitted prior to the deadline date (It is understood that some additions and/or deletions are made after the submission of the entry form. The requirement to be eligible for a prize is that no more than 20% can be changed).
6. Prizes will be in the form of a cheque and winners will be notified by phone or email shortly after the fair.
Sections:
| | |
| --- | --- |
| 1. | Early Bird Draw Prizes: 1st: $35, 2nd: $30, 3rd: $25, 4th: $20, 5th: $15, 6th: $10, 7th: $10, 8th: $10 |
Baby Show
<!–- AssistExpo -–>
Sunday, September 17th, 2023
12 pm in Memorial Hall
Sponsored by The Binbrook Agricultural Society
Chairperson: Maren Nimec (905) 692-1588
Registration: Registration the day of the show at Memorial Hall from 11 am - 11:45 am.

Sections:
1.

Girls and Boys 0-3 months

Most hair and least hair

2.

Girls and Boys 4-6 months

Longest fingers and longest toes

3.

Girls and Boys 7-9 months

Chubbiest cheeks and curliest hair

4.

Girls and Boys 10-12 months

Best dancer and best smile

5.

Chip Off the old Block

For all ages registered in sections 1-4 and multiples.

**Babies will be judged with a parent based on being most alike in dress and appearance.

6.

Multiples 0-12 Months

**Most alike in dress, appearance and cohesiveness.

In the case of identical vs fraternal multiples we may have more than one winner.

7.

Most Creative Halloween Costume - All Babies 0-12mo

Girls, boys and multiples.
BAS Scholarship Award
<!–- AssistExpo -–>
Demolition Derby
<!–- AssistExpo -–>
Friday, September 15th at 7pm

Chairperson: Drew Spoelstra 905-379-5751
For Information call Fair Office 905-692-4003

Please Note:
For registration and details please contact Impact Motorsports (Email:impactmotorsports.info@gmail.com & Phone 905-414-7001)
Fair Book Cover Contest
<!–- AssistExpo -–>
Congratulations to Rebecca Hollett of Binbrook for winning the 2023 Cover Contest.

Help design the cover for the NEXT Binbrook Fair; win a prize, and be proudly represented in your community!

Prizes: 1 $50, 2 $25, 3 $10, all other entries will receive $5.
RULES:
1. The 2024 Binbrook Fair theme is, "TBD". Please contact the office for further details.
2. Entries must be submitted on 17" high x 11" wide size paper. Please be aware of size specification.
3. Entries may be in colour or black and white.
4. Text titles are optional, and will be overlaid afterwards if not included. If you choose to include text titles the following must be on the submission: Dates – September 13th, 14th, 15th, 2024 along with the 171st Binbrook Fair and the theme of, "TBD". For examples of past covers visit www.binbrookfair.org and click on cover contest.
5. Any format or type is acceptable but it must be artwork or your own creation.
6. Creating a matching watermark for the back cover is optional.
7. All submissions will become the property of the BAS, for use only in promoting the 2024 Fair.
8. The deadline for entries is 2pm on October 20th, 2024. Please drop off submissions to the Fair Office during business hours.
9. Winner will be announced at the Annual Volunteer Appreciation & Awards Dinner in November.
….a few previous covers are below…. many more are in the office if you have questions…